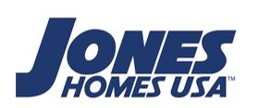 Jones Homes USA - Honored to Be Nominated for the Risk Assessment Award at the QB Builder Awards for 2017
Fort Lauderdale, FL (Feb. 08, 2018) – Jones Homes USA is a subsidiary of The Emerson Group, a premier international real estate development company with operations in Florida, the United Kingdom and Portugal. The principals of Jones Homes USA have built thousands of homes and developed dozens of communities in the United States and the U.K. since 1959. They are dedicated to providing homeowners with innovative designs, exceptional luxury apartments and the latest energy features and home technology.
On January 9, 2018, Jones Homes USA was recognized for being nominated for the 2017 Quality Built (QB) Risk Assessment award. Being nominated for this award is a true honor, as Jones Homes is one of Quality Built's newest members on their third-party inspection Risk Assessment program. The builder came in close to the award winners, Beazer® Homes - Virginia, and Shea Homes® - North Carolina - Trilogy® Lake Norman, who have both been part of QB's program for several years and are well-versed in the system.
What is Involved in Risk Assessment Inspections?
Risk Assessments account for common construction risks based on a statistical sampling of various construction stages and systems for gauging and measuring the overall risk exposure associated with a builder. During an RA, Quality Built surveys site conditions and construction performance, highlights areas of greatest need, and provides the builder with a measurement tool for insurance risk and performance grading. Builders can then utilize this information to make informed decisions about training and quality assurance protocols to avoid risk.
Each of Quality Built's clients that have integrated risk assessments into their QA program have approached the system in their own unique way. This is because their business model, geographic location, scope of work, etc. all vary.
What Does It Mean to Own a Quality Built Home?
Quality Built is a third-party quality assurance inspection company providing inspection services and technology-based solutions to builders across the U.S. for over 20 years. Their inspectors average over 25 years of experience in the industry and are comprised of licensed inspectors, architects and engineers. QB is committed to educating the building industry on construction code and building best practices. Through their programs, builders can track and remediate anomalies, while providing their trade contractors with targeted training to ensure they are building to quality standards and therefore delivering to homeowners the quality home they deserve.
Not all builders use quality third-party inspections. Jones Homes, USA is one of the few in the nation that has committed to providing homeowners with a dependable home that truly captures the Jones Homes USA difference: Quality. Service. Style.
Click Here to Read Full Article
For more information about Jones Homes USA and their offerings, visit their website at www.joneshomesusa.com