By: Scott Webb, Safety Director and Technical Services Specialist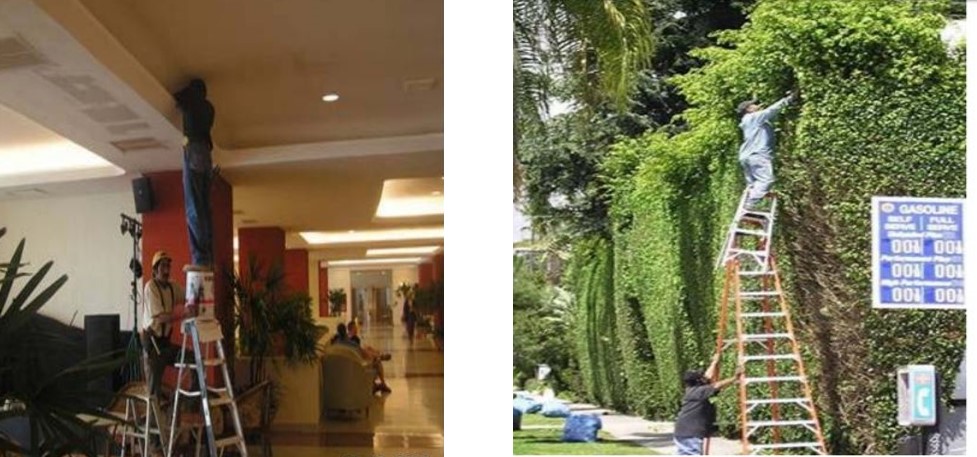 According to the American Ladder Institute, in the United States there are:
2,000 ladder injuries every day.
364 deaths caused by falls each year.
Falls from heights are the third most common disabling workplace injury.
The most common ladder falls happen between 6-10 feet off the ground.
Given these shocking statistics, ALI, America's primary developer of ladder safety guidelines, has designated March as National Ladder Safety Awareness Month. Their goal is to decrease the number of ladder-related injuries and lower the rankings of ladder-related citations on the Occupational Safety and Health Administration's (OSHA's) annual "Top 10 Citations List", by making online resources and free training modules readily available.
The truth of the matter is ladders are one of the most simple and easy-to-use tools the construction industry has to offer. These fatalities can easily be avoided with care and education! Being a construction Quality Assurance firm that takes safety awareness very seriously, we have put together this 15-minute, ladder safety guide to help our building partners stay safe out on the field. The following material is in reference to OSHA's written requirements for ladder construction, condition and use in the 26 CFR 1926 Subpart X - Stairways and Ladders fact sheets.
The Four Most Common Ladder Misuses
1. Selecting the Wrong Type of Ladder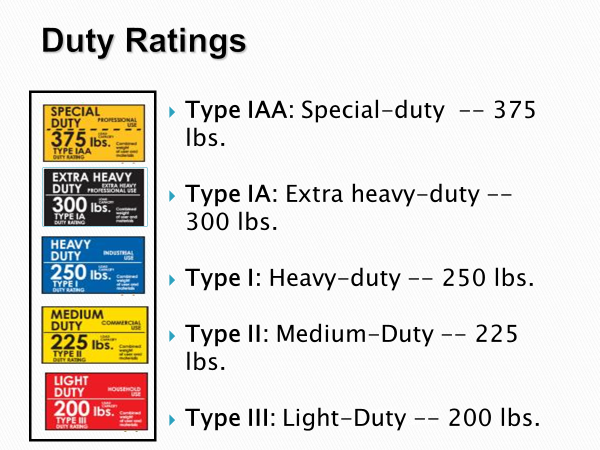 Using the right tool for the right job is critical when it comes to construction safety, and it is no different when it comes to selecting a ladder. One thing to consider when selecting the appropriate ladder is the ladder's weight capacity. Each ladder is designed to support a maximum weight limit and if the climber exceeds that limit, the ladder could break and cause them to fall or become injured. Another consideration when selecting the appropriate ladder is the necessary height of the ladder. Many injuries occur due to ladders being too short for a specific task. Instead of selecting a new ladder for the job, workers will place the ladder on something to extend its reach or will stand on the top rung to gain the necessary height. Both scenarios are extremely dangerous and can result in serious injuries.
2. Using Worn or Damaged Ladders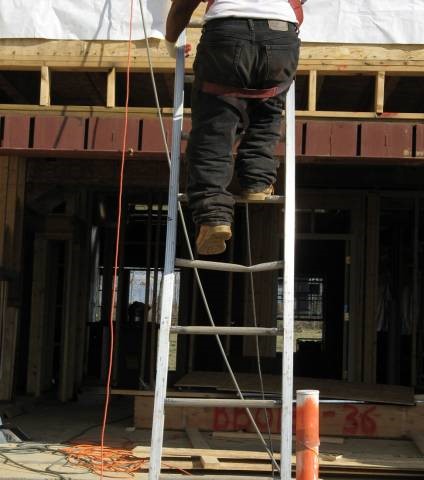 Another common contributing factor to ladder accidents is the use of old, worn, or damaged ladders. Like many things, ladders have a shelf life. After a couple of years, the stress of being climbed up and down on causes ladders to break down. Damaged ladders are extremely dangerous as they can easily break while being used and cause serious injuries. To protect yourself from damaged or broken ladders, make sure to thoroughly inspect each ladder before using it (see below for a ladder inspection checklist). If any damage is found, do not use the ladder until it has been safely repaired to the manufacturer specifications or it has been replaced.
3. Inappropriate Use of Ladders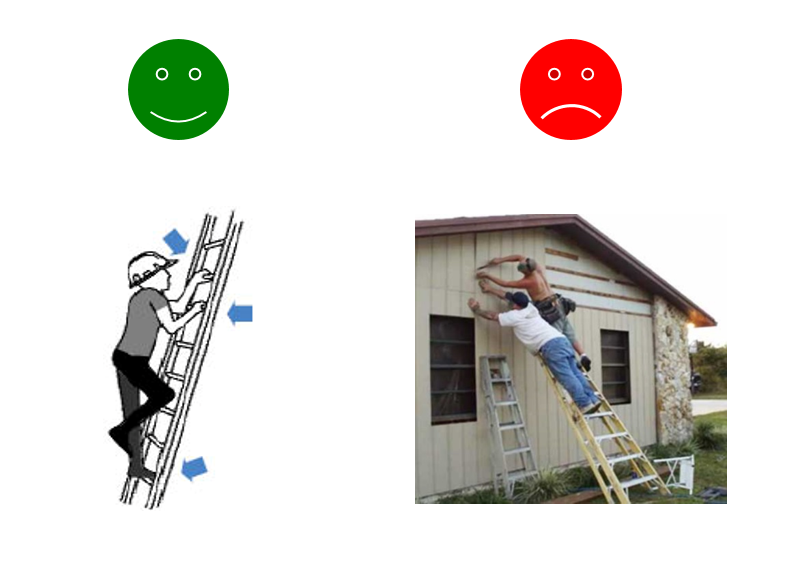 Human error is by far the leading cause of ladder accidents. Never use a ladder in any other way than what the manufacturer intended. Do not lengthen or alter a ladder in any way. Also, never attempt to reach for something while on the ladder. It is much safer to get off the ladder, move it, then climb back up.
When using a ladder, always maintain a 3-point contact on the ladder when climbing, either two hands and a foot, or two feet and a hand. Keep your body near the middle of the step and always face the ladder while climbing (see diagram).
4. Incorrect Placement of Ladders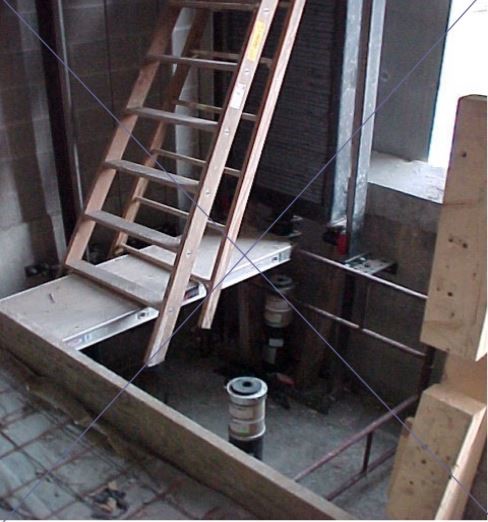 Make sure when positioning a ladder, the ground you place it on is level and firm. Ladders should never be placed in front of a door that is not locked, blocked, or guarded. A good practice to ensure a ladder is secure is to always have a helper support the base while the ladder is in use. If the ladder cannot be held by someone else, make sure it has an appropriate foot to prevent it from slipping. The feet of the ladder can be staked if you are using a ladder outside and no one is available to support the feet of the ladder.
Basic Ladder Safety
Stepladder Safety
Stepladders come in several sizes; with the three most popular sizes being 4, 6, and 8 feet. Regardless of the ladder size, the following safety rules apply:
First, when opening a stepladder, check to confirm that the two hinged metal braces, called "spreaders", are locked down and straight.
Never set up a stepladder on uneven ground. Each of the ladder's four feet must make firm contact with the ground or floor.
Do not use a closed or partially closed stepladder. It can easily slide out from under you.
Never sit or stand on the very top step of the ladder. In fact, ladder manufacturers—and emergency room doctors—recommend never standing above the third highest step.
Do not move or shift a ladder while a person or equipment is on the ladder.
Only climb up the front of the ladder, never the back. Don't allow more than one person at a time on a stepladder. Note: The exception is when using a specially engineered two-person stepladder, which has steps on both sides.
When working from a stepladder, keep your hips within the two vertical rails. Reaching too far to the left or right can cause the ladder to topple.
Remove all tools and materials from the ladder before moving it. Do you really want that hammer falling on your head?
Finally, don't leave stepladders unattended. When you're done working for the day, or if you take an extended break, close the ladder and put it away, or at least lay it down.
Extension Ladder Safety
An extension ladder provides the easiest, most convenient way to reach high areas, but with greater heights, come greater chances for more serious injury.
To extend the ladder, first lay it on the ground with its feet braced against the building. Then raise the top end of the ladder and walk it upright hand over hand. Once the ladder is nearly vertical, grab a rung at about thigh-high, lift the ladder slightly, and walk its base back away from the building.
Once the ladder is in position, grab the rope and raise the ladder's telescopic section (known as the fly) to the desired height. Be sure that both rung hooks lock securely onto a rung of the ladder, then tie off the end of the rope to a lower rung.
To set the proper ladder angle, use a 1:4 ratio: Divide the ladder height by 4, then move the ladder base that far away from the building. For example, if the ladder is 16 feet tall, its base should be 4 feet away from the building.
Both ladder feet should sit firmly on the ground. If one foot doesn't make contact, don't stack blocks of wood beneath it. Instead, dig some dirt out from beneath the other foot.
Never stand an extension ladder on wet, muddy, icy, or snow-covered surfaces.
Don't stand higher than the fourth rung from the top.
Never set up a ladder (especially metal ladders) anywhere near electrical power lines to avoid electrocution or other injuries.
Always face the ladder when ascending and descending. Use both hands to grab the rungs, not the rails.
If necessary, wear a tool belt or holster to carry tools and supplies. This way, you'll have both hands available when climbing up and down.
As with a stepladder, keep your hips within the vertical side rails. Don't overreach to the left or right.
General Ladder Inspection Checklist
OSHA requires that ladders be inspected by a competent person or "one who is capable of identifying existing and predictable hazards in the surroundings or working conditions which are unsanitary, hazardous, or dangerous to employees, and who has authorization to take prompt corrective measures to eliminate them" on a periodic basis as well as after any event that could result in damage to the ladder [20 CFR 1926.32(F)]. In addition to this, we suggest that employees required to use ladders to perform work be educated on potential ladder defects, and that they inspect the ladder at least daily, as well as after transporting it to a new site. Employees should conduct inspections for general ladder safety for all portable ladder types by checking the following:
Ladders should not have any damage, lack of structural integrity, missing components or loose parts. Damaged or worn ladders should be destroyed. The steps or rungs must be tight and secure to the side rails.
All hardware and fittings need to be properly and securely attached.
Movable parts must be tested to see that they operate without binding or without too much free play.
All labels should be intact and legible.
Ladders shall be free of oil, grease, or slippery materials.
A ladder that has been exposed to fire or strong chemicals should be discarded.
All accessories such as leg levelers, paint shelves, stand-off shelves, etc. need to be in good condition.
The ladder base shall be placed on a secure and level footing. When necessary, ladder levelers shall be used to achieve equal rail support on uneven surfaces.
The ladder base must have a slip-resistant surface.
While inspecting extension ladders, you need to verify that:
Ropes and pulleys are in good condition.
Ladder extension locks move freely and lock correctly.
Rung locks are on the rails of the top section to ensure the top section will not fall.
Extension guide brackets are secure and in place.
Ladder Type Specific Inspection Checklist
In addition to the general inspection elements mentioned above, there are ladder type specific elements which also need to be inspected. Do not use the ladder if you observe any of the ladder-specific conditions listed below:
For Metal Ladders, also check for the following:

Loose rungs, nails, bolts screws, and other metal parts.
Dented rungs or rails.
Sharp edges, corners, and burrs.
Damage from corrosion.
Bends and breaks.
Tags or stickers reading "caution - do not use around electrical equipment", or similar wording.
For Wooden Ladders, also check for the following:

Lack of structural integrity of rungs and rails.
Chips, splits, cracks, and splinters in the rails.
Holes and knots.
Loose/wiggly parts.
Painted wooden parts that could be covering dangerous cracks (clear finish or transparent penetrating preservative is okay)
For Fiberglass or Plastic Ladders, also check for the following:

Cracks, chips, and splinters.
Deformed rails or rungs due to heat, chemical, or environmental exposure.
Bends and breaks.
Warning:
Defective ladders needing repairs are subject to the following guidelines: Portable ladders with structural defects—such as broken or missing rungs, cleats or steps, broken or split rails, corroded components or other faulty or defective components—must immediately be marked defective or tagged with "Do Not Use" or similar language and either be discarded or withdrawn from service until repaired to manufacturer specifications.
Ladder Maintenance
Keep all ladders and ladder accessories, especially safety shoes, in good condition at all times.
Withdraw damaged ladders immediately from service for repair or destruction.
All wood ladders used outside should be treated with a clear finish or transparent penetrating preservative to protect from weather damage. Wood ladders that have been painted shall be removed from service.
Never store materials on a ladder.
Store wood ladders where they will not be exposed to excessive heat or dampness. Store fiberglass ladders where they will not be exposed to sunlight or other ultraviolet light sources.
Be sure that ladders are properly supported and secured when in transit. Vibration and bumping against other objects can damage them.
Store ladders on racks, which give them proper support when not in use.
Metal bearings of extension ladder rung locks and pulleys should be lubricated periodically, and between regular maintenance periods whenever necessary.
Ropes on extension ladders should be in good condition. If they become frayed or badly worn, replace them.
DO NOT use ladders with broken or missing steps, rungs, cleats, safety feet, side rails, or other defects.
Keep ladders free of oil, grease, or slippery materials at all times, by cleaning frequently.
Conclusion
Working from elevated heights exposes employees to a variety of dangers and specific hazards which must be addressed with a comprehensive program. If an employee fails to use a ladder correctly, that employee puts themselves and others at risk. Understanding the principles of ladder safety is critical in keeping workers safe. ALI and OSHA provide valuable guidelines for ladder use. By following these tips, along with the proper rules and regulation for safety, we can create a safe working environment for the construction industry. Let's work together to prevent ladder safety mistakes in an effort to bring our loved ones home safe and sound at the end of each day.
While performing inspections across the country, we see construction personnel using ladders incorrectly on a regular basis. We are committed to stopping these practices. Our Risk Assessment personnel have taken the OSHA 30-hour course to ensure that they are prepared and ready to address the improper use of ladders and other hazardous conditions observed out on the field. Safety and Risk Assessment inspections are what our builders need to address and bring these poorly-handled practices to an end.
About Quality Built
Quality Built (QB) has been providing third-party QA inspection services and solutions to builders across the U.S. for over 20 years. Backed by a team of architects, engineers and inspectors averaging over 25 years of experience in the industry, QB has developed a powerful software platform that addresses construction risk, encourages collaboration and delivers qualitative and quantitative data – allowing builders to effectively make informed business decisions. From a proprietary data collection app, to automated reporting, to a comprehensive data-driven dashboard and cloud-based file storage, Quality Built has the tools and resources builders need to deliver the quality product they promise, both efficiently and on time. QB's inspection capabilities cover all phases of construction and include but are not limited to: technical plan reviews, geotechnical consulting, building envelope inspections, quality assurance, property condition assessments, ASTM/AAMA water testing, fit and finish inspections and more.
Questions? Contact our Safety Director, Scott Webb, at [email protected].