We Heart Best Building Practices
In commemoration of Valentine's Day we are sharing with you 14 Best Building Practices for your consideration. The implementation of Best Building Practices helps to reduce risk and increase customer satisfaction. The following are listed in order of construction sequencing, i.e. foundations, framing, building envelope, etc., up through the roof.
1. Establishing a rough grade after pouring the foundation and prior to the commencement of vertical construction for worker safety.
Sites with an uneven grade or with a considerable amount of exposed stones or rubble create hazards for workers walking around the site, including the potential to trip and fall or sprain/twist their ankles.
2. Rough framing for door and window openings should be square and plumb.
Improper rough opening framing can result in water intrusion or the inability to install the window product. The purpose of the door/window nailing flange is not to fix framing errors by covering up the variation from plumb or square.
3. Cut ends on oriented strand board (OSB) should be primed prior to installation.
Failure to prime cut ends can result in swelling of the cut edge which can result in loss of structural strength.The manufacturer applies a primer coat to the edges of the board during manufacturing to prevent the ends from swelling during moisture contact.
4. Provide a slope at wet areas in the interior, such as applied membrane shower substrates (hot mop shower pan and curbs, shower seats/shave shelves, and recessed soap dishes).
Failure to provide a slope for draining purposes can result in water standing on the horizontal surface, thus increasing the risk of water intrusion.  The slope should be provided at or below the waterproofing (not just at the finished surface) to prevent water from standing on the waterproof membrane.
5. For windows with mounting flanges be sure not to fasten the window too close to corners.
Generally, a minimum 3-inch clearance should be maintained. Refer to the window manufacturer's installation guidelines for specific clearance requirements. Fastening too close to window corners may cause joint seals in the window frame to fracture during normal expansion and contraction.

6. For windows with mounting flanges and pre-punched holes in flanges, ALWAYS fasten through the pre-punched holes. Do NOT fasten outside of the pre-punched holes unless it is explicitly required in the window installation guidelines.
Driving fasteners through the flange rather than the pre-punched holes can result in cracking or other damage to the nailing flange either during the install or during expansion and contraction while in use.
7. Be sure to back your flashing.
Both adhered and non-adhered flashing should be fully backed wherever they occur.  This reduces the risk of water intrusion related to sagging or movement of the flashing.
8. Flash exterior wall penetrations with a premanufactured flashing boot i.e. Quickflash or similar.
We often observe improper flashing or a lack of flashing at exterior wall penetrations.  The use of sealant or tapes often results in an incomplete seal that can allow water intrusion. Proper installation of a quality flashing will reduce the risk of water intrusion.
9. Seal/cover duct terminations during the construction phase.
Duct terminations are often left open during construction which allows bird nesting and construction debris; i.e. drywall dust and sawdust; to settle inside the inner liner. This increases the risk of customer complaints regarding indoor air quality and potential claims related to health effects.
10. Maintain proper clearances between siding cladding products and similar and dissimilar materials.
Different products have different clearance requirements.  Failure to maintain proper clearance can result in cosmetic damage, or worse, the possibility of premature product failure. Failure to follow the manufacturer's installation requirements will void the warranty and increase the risk of damage.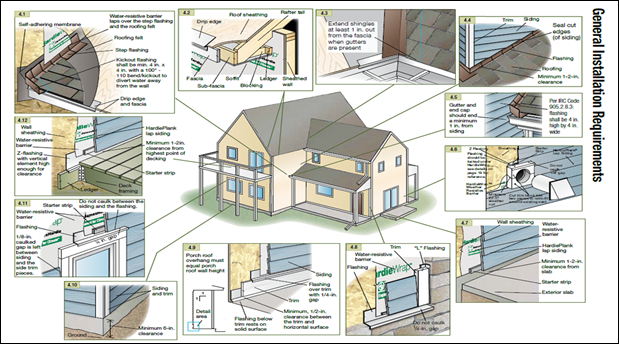 11. Cut ends of fiber cement siding and trim products should be primed PRIOR to concealment.
Installing siding and trim with cut ends and priming after siding is complete will not allow the cut ends to be fully primed, the only way to effectively meet the manufacturer's requirement is to prime them before installing them.
12. Specifying a minimum of 1/4 inch to 1/2 inch slopes on flat roofs.
Failure to provide sufficient slope to drain will result in standing water which increases the risk of water intrusion through the roofing.

Pudding on roof following a rainstorm.

Small amounts of water remain on the roof 48 hours after the rainstorm.
13. Install roof underlayment and asphalt shingle in a two-step process with time for completion of the roof dry-in prior to shingle installation and properly integrate flashings.
Installing the underlayment with the shingle installation proceeding at the same time makes it impossible to inspect the underlayment and, lapping of underlayment is often incorrect. For asphalt shingle roofs, flashing for roof penetrations should be installed during the installation of the asphalt shingle, NOT after the shingle installation is complete. Installing flashing after asphalt shingles are fully installed requires the asphalt shingle to be pulled up, which may damage seals and shingles.
14. Use a Systems approach especially for critical high-risk areas.
Use products from one manufacturer for the complete system and avoid mixing manufactures. This approach reduces the risk of product incompatibility. Larger manufacturers will have complete systems with testing already performed to verify compatibility of their products and will often have systems details.
Conclusion
At Quality Built we Love to encourage our clients to implement Best Practices during construction. Doing it Right the first time is less expensive than dealing with a construction defect claim years later. We would Love to talk to you about how our comprehensive QA program can help verify that Best Practices are being implemented on your project and help reduce the overall risk of the project. To quote Ray Bradbury - "Love what you do and do what you love."