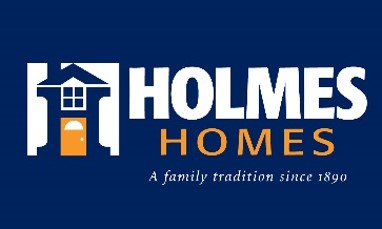 Utah Builder, Holmes Homes, Takes the #1 Award at the QB Builder Awards for 2017
Fort Lauderdale, FL (Feb. 08, 2018) -- Holmes Homes is a home builder owned by brothers Patrick and Spencer Holmes and located in Utah; the Holmes brothers have a family tradition of home building that dates back to 1890. Their legacy began with their great-great-grandfather, Joseph Holmes, who had a passion for home building and for providing his home buyers with a quality home. Joseph's extensive knowledge and implementation of quality building practices has continued as a tradition for five generations.
Holmes Homes is a dedicated partner of Quality Built (QB), a national third-party QA inspection company, and has been involved in their program since 2004. In 2017, QB performed full-scope QA inspections on various Holmes Homes communities. These types of inspections provide a great representative sampling of a builder's overall quality, as they address high-risk components, including foundation, framing, exterior cladding, penetrations, MEP (i.e. mechanical, electrical and plumbing systems), roofing systems and more. Quality Built describes the Holmes Homes team as reflecting a culture of quality from the executives down. Holmes Homes owners and executives meet with QB's Field Consultants on a weekly basis to address Open Item (anomaly) trends and to discuss room for improvement.
When Quality Built presented Holmes Homes with the Quality of Construction - Full-Scope QA award, recipient Spencer Holmes was ecstatic, honored and grateful for Holmes Homes to be recognized for their continued family tradition of hard work, dedication, and exceptional quality homes. Patrick and Spencer Holmes express their appreciation: to all Holmes Homes employees, subcontractors and trade partners, whose continued dedication to quality helped win this prestigious award; and to their father Michael Holmes and other prior family builders, for their tradition of quality and excellence.
What Does It Mean to Own a Quality Built Home?
Quality Built is a third-party quality assurance inspection company providing inspection services and technology-based solutions to builders across the U.S. for over 20 years. Their inspectors average over 25 years of experience in the industry and are comprised of licensed inspectors, architects and engineers. QB is committed to educating the building industry on construction code and building best practices. Through their program, builders can track and remediate anomalies, while providing their trade contractors with targeted training to ensure they are building to quality standards and therefore delivering to homeowners the quality home they deserve.
Not all builders use quality third-party inspections. Holmes Homes is one of the few in the nation that has committed to providing homeowners with a dependable home that truly delivers "The Holmes Homes Difference".
Click Here to Read Full Article
For more information about Holmes Homes and their offerings, visit their website at www.holmeshomes.com